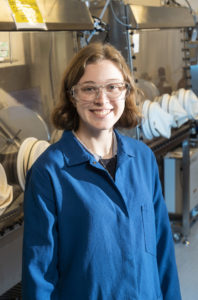 BIOGRAPHY
Haley is a Ph.D. student in the SALT Research Group studying the structure and speciation in molten fluoride salts. She holds the UC Berkeley Chancellor's Fellowship. Prior to her graduate studies, she received her B.S. in Chemical Engineering with minors in French and Physics from The University of Tulsa.
PROJECTS
At UCB, she has worked on the development of electrochemical oxide sensors for molten fluoride salts as a part of the NuSTEM NEUP. She currently studies the speciation of solutes in molten fluoride salts and its dependence and effect on salt structure and fluoroacidity. Specifically, this includes investigation of chromium's speciation within the FUTURE EFRC and beryllium and light element speciation for the Speciation NEUP. In support of these studies, she researches the development of thermodynamic reference electrodes through the France Berkeley Fund.
AWARDS
2021 Virgil E. Schrock Award for Outstanding Mentorship, UC Berkeley NE Department
2019 UC Berkeley Chancellor's Fellowship
PUBLICATIONS
Consiglio, A. N., Carotti, F., Liu, E., Williams, H., & Scarlat, R. O. (2022). Design and operation of a molten salt electrochemical cell. MethodsX, 9, 101626.
The acidity of salt: The chemistry of advanced nuclear energy. Frontiers in Energy Research Newsletter, Winter 2021
Clean energy you don't have to take with a grain of salt. Frontiers in Energy Research Newsletter, Spring 2021
Winner, N., Williams, H., Scarlat, R., & Asta, M. Ab-Initio Simulation Studies of Cr Solvation in Fluoride Molten Salts. Journal of Molecular Liquids, 335, 1163551. (2021)
ORCiD profile: https://orcid.org/0000-0003-1502-1296