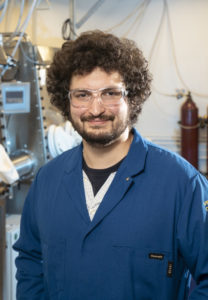 2nd Year PhD Student
michael.borrello@berkeley.edu
4116 Etcheverry Hall
Berkeley, CA 94720
BIO
Michael is a second year PhD student in the SALT Research Group. He received his Bachelors in Chemical Engineering from the City College of New York. Michael previously studied thermal hydraulics of VHTR's as an undergraduate research assistant. He now focuses his studies in electrochemical sensors development used to measure transport and chemical properties of molten salts for advanced reactors.

PROJECTS
The first project Michael works on in the group is the design and operation of a Natural Circulation Molten Salt Corrosion Loop which is sponsored by ThorCon. Michael also works on designing and characterizing a Thermodynamic Reference Electrode for FLiBe thanks to funding from Ultramet based upon work supported by the U.S. Department of Energy, Office of Science, Office of Nuclear Energy, under Award Number DE-SC0021952. He now works on the NEUP Molten Salt Pump Development project, a collaboration between University of California-Berkeley, University of Wisconsin-Madison, Oak Ridge National Lab, Kairos Power, and Powderment. Michael pursues projects which concern the development of instrumentation for advanced reactors in hopes of seeing these reactors provide clean energy to the world.

RECENT AWARDS
2021 NEST-SMART SMR Competition
2021 NSF GRFP Honorary Mention
2020 NRC Student Scholarship

UPCOMING TALKS
2022 ANS Summer Conference
Monday, June 13 @ 1pm – 2:45pm PST
"Design of a Natural Circulation Molten Salt Loop to Study Long-term Corrosion behavior in SS316H in NaF-BeF2 Under Argon Glovebox Environment"

PUBLICATIONS
Publications will be updated when more relevant documents are available.
ORCID Profile: https://orcid.org/0000-0002-0285-542X